Vietnam is the third largest investment destination in Asia after China and India. In terms of economic openness, Vietnam ranks 20th out of 201 economies globally.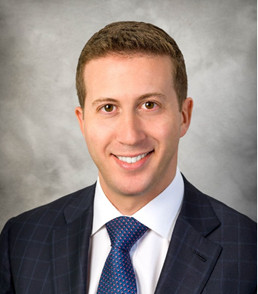 Jeffrey Perlman – CEO and Southeast Asia head of Warburg Pincus (a large US private equity firm) sees huge opportunities in Southeast Asia, and can successfully replicate the model. similar to that in China and India.
Answering on DealStreetAsia_08/10/2022 he said that "Not everything is correlated across markets but there is a big opportunity in investments in Southeast Asia. While major powers are focusing on mature markets like Japan, Korea or Australia, entrepreneurs in Southeast Asia are most focused on what is happening in China, India because of its proximity, market development in the next 5-7 years.
In this area, Warburg Pincus is very interested in Vietnam, considering that Vietnam is the third largest investment destination in Asia after China and India. Since 2013, Warburg Pincus has invested around $2 billion in companies in Vietnam.
On a recent business trip to Hanoi, addressing the global downturn in markets, executives are betting on their company's approach to building the foundation over time and focus. focusing on growth rather than momentum investing they are betting on an approach in building the foundation over time and focusing on growth rather than momentum investing."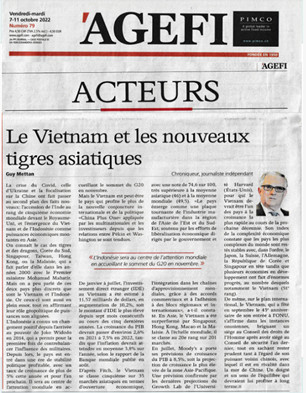 Issued by AGEFI from October 7-11, 2022 in the ACTEURS (Outstanding Factors) column, an article by independent journalist and commentator Guy Mettan titled "Vietnam and the Asian Tigers" new" (Le Vietnam et les nouveaux tigres asiatiques) quotes: "But Vietnam is probably the country that has made the best use of the new international situation and the "China + 1" advantage, to attract multinational corporations and international investors since the relationship between the two countries. Beijing and Washington became tense."
In addition, according to the rating agency Fitch, Vietnam ranks 5th out of 35 Asian markets in terms of economic openness, with a score of 74.6/100, much higher than the average of Asia (46) and of Asia. world (49.5). "The country is emerging as a manufacturing hub in East and Southeast Asia, supported by government-led economic liberalization efforts and integration into global supply chains, through trade agreements and membership in regional and international organizations," said Mettan, citing the Fitch report.
Another forecast confirmed by the latest predictions from the Growth Research Department of Harvard University (USA) also said that Vietnam will be one of the fastest growing countries in the next decade.
Similarly, on the international level, Vietnam, which has just celebrated its 45th anniversary of joining the United Nations in September, is asserting itself in UN agencies and running for the Human Rights Council after being successful. as a non-permanent member of the Security Council.
"Foreign direct investment (FDI) realized in Vietnam in the first nine months of 2022 was estimated at $15.43 billion, up 16.3% over the same period last year. This is the highest amount of realized foreign direct investment capital of 9 months in the past 5 years." According to a report of Foreign Investment Department, Ministry of Planning and Investment,_September 22, 2022.